"Universal Design for Barrier-Free Living," a term that I coined and copyrighted several years ago, refers to design that is usable by as many people as possible, regardless of their abilities or disabilities. Why universal design?

The "average" person in the U.S. is six feet tall, 165 pounds, male, with normal physical ability and dexterity. That profile fits a very small minority of people. Yet, that's who the "average" house is designed for. Most people don't fit into that category and may require special features that make usability for them more practical.

"Barrier-Free Living" refers to the ability of people with physical disabilities to live as normally as possible without the interference of architectural barriers. These barriers impede a user's ability to move about freely or use a particular item without assistance. Combining universal design with barrier-free living allows people of normal ability and those who have any number of disabilities to be able to live as normal a life as possible by incorporating sensible design and features that make living easier than if the design did not include these features.

These features might include traffic areas and rooms that have no steps, wider hallways and doors, ramps, easily operable windows, reachable appliances, electrical outlets and switches, movable shelves, automatic devices and sensors and more.

If you or a family member has a special need or would simply like more information on "Universal Design for Barrier-Free Living," please call our office. Consultation is free.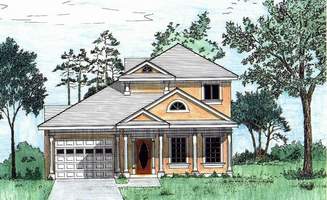 "The Bridgewater" is a three-bedroom, two-and-a-half bath universally designed home. Everything on the first storey is barrier-free, including the master suite, kitchen and laundry center. The garage is designed with an eight-foot high overhead door and is wider than a typical one-car garage to accomodate a wheelchair van.

There are two bedrooms and a full bath on the second storey. The home is 38 feet wide and will fit on a 50-foot wide urban lot in most cities and is designed primarily for urban living.

The design can be modified to suit specific needs.